Bed Bugs
Bed bugs are one of the hardest pests to control and even some professionals have difficulties with these little pests.
Bed bugs are extremely resilient, they can live in a dormant state for more than a year without feeding so are often found by new residents of a property or emerging from belongings or furniture which has been kept in storage.
DIY products are available to help deal with bed bugs but DIY treatments often fail for a few reasons:
Bed bug harbourages have not all been found – Bed bugs are great at hiding and will slip into tiny gaps but despite their name they will not always be in the bed. Bed bugs could be anywhere in the house and have been known to hide in sofas, beds, headboards, electrical sockets/appliances, behind wall paper, under carpets, gaps in skirting boards/door frames/ laminate floors, wardrobes/ chest of drawers/ other furniture.
Insecticide resistance – Some populations of bed bugs have developed resistance to some of the more commonly used insecticides. Our professionals have access to a range of professional strength products many with 2 or more active ingredients working in conjunction to kill bed bugs quickly and beat any resistance. We are trained to spot resistance and use different products where necessary to ensure complete control.
Re – introduction – It is important to ensure all recommended steps are taken to prevent re introduction this includes thorough washing of clothes and bedding and ensuring you are not visiting other infested houses.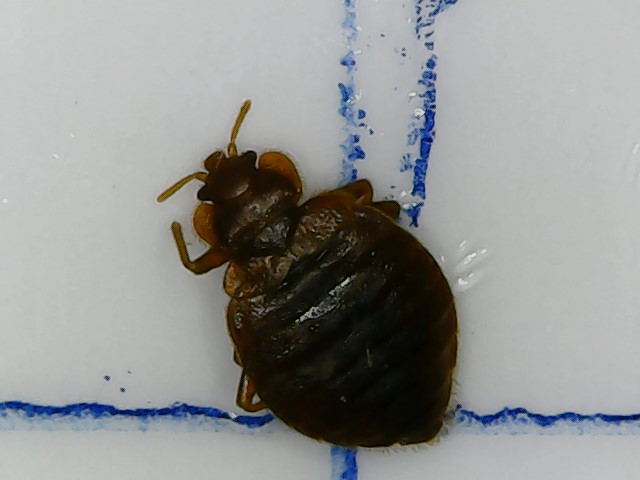 Guaranteed Bed Bug Treatments
We carry out a three visit insecticide treatment to eradicate your bed bug issue. We start all treatments with a thorough inspection which will include looking closely at the bed, sofas and other common hiding places. Although the products we use do have a residual effect best results are achieved when we can apply directly into the harbourages. We have products that are suitable for treating beds, mattresses and other soft furnishings so you will not normally need to dispose of any of these items.
Many companies offer a guarantee but the terms can vary significantly. Our guarantee is for 2 month from the final treatment. From our experience we know most bed bug issues will be completely eradicated after 3 treatments, but on occasion additional visits may be needed. Some guarantees will ask you to wait a month after treatment before they will revisit, we only ask you wait 1 week from the final treatment before you can book in a revisit. We believe it is better to get back in to carry out additional treatment as soon as possible to prevent further breeding and egg hatching.
Preparation
We try to carry out treatments with minimum disruption to you however you will need to take a few steps prior to treatment to help ensure your treatment is successful as quickly as possible. Bedding should be removed from your mattress and washed at 60 degrees C or above. Any loose items on floors especially under beds should be bagged or boxed to ensure we can inspect and treat all areas.
Call the Bed Bug Experts Today!
From our base in Biggleswade, our Bed Bug experts help people rid their homes and businesses from bed bugs with our guaranteed treatments. We cover the whole of Bedfordshire, Cambridgeshire and Hertfordshire and some areas in Northamptonshire, Buckinghamshire, Essex and North London.
If you have bed bugs you let our pest professionals take care of them for you.